February Luncheon
Guest Speaker: Mimi Donaldson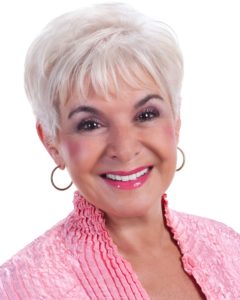 We're very excited to welcome Mimi back to speak with our network as she's always a huge hit!  We could all use a little help for that moment when we have just a couple minutes to represent ourselves and what we do and she's the woman who can do it.
Mimi is a superstar in the speaking business, keynoting with celebrities for audiences of thousands.  Her combination of sophisticated humor and solid content makes her one of America's most popular funny females.
Mimi has created speeches for executives, celebrities, entrepreneurs, and sales staffs.
Before starting her speaking and coaching business, she was a Human Resources Specialist with Disney, Northrop, and Rockwell.
"Mimi was delightfully inspiring and a perfect fit for the SMWN.  Bought all three of her books so our YMCA Leadership Team can choose one for our next group read!!" – Shannon Seifert
As always, remember to support our Scholarship Fund by purchasing raffle tickets for the Drawing.  Please remember to bring a gift for the drawing, and get your extra ticket!   You may RSVP by emailing Marisol Cruz at smwnreservation@gmail.com.  Also, there is no credit card fee if you pay for your lunch in advance* ($25) which you may do so by clicking here: https://www.paypal.me/smwomensnetwork

*Just a reminder that if you RSVP and can't make it, we need a 24 hour notice of cancellation to avoid a lunch charge being billed to you.
Date: Wednesday, February 6th

Time: 11:30 am – 1:00 pm

Location: Santa Maria Country Club in the Sequoia Room
Women of Excellence Social Event & Recognition Dinner

This event honors women who impact our community by exhibiting creativity, courage, generosity and support of women above self.                                                                                                                                                         
A Women of Excellence recipient may be someone who:
Accepts creative challenges and achieves work that has a significant impact on their community;
Persists in finding ways to succeed in extreme circumstances, pioneer in nontraditional occupations, stand up for their principles, or dedicate their lives to a unique field of work;
Fosters the personal, social, and professional growth of other women while striving to make society more amenable to such success;
Uses their insight, generosity and leadership to create a better future for women;
Inspires by their willingness to expand their scope of giving at every crossroad in life.
This event benefits the Santa Maria Women's Network Scholarship Fund.
Please join us in celebrating these amazing women.
Date:
 Thursday, March 7th
Time: 5:30 pm – 9:00 pm
Location: Santa Maria Country Club
Tickets must be purchased in advance and can be found at: https://smwnwomenofexcellenceawards.eventbrite.com