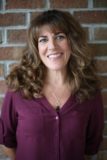 Michelle Sala Integrative Health
I became a health coach out of my own frustrations with western medical doctors and trying to solve my digestive issues. After dicovering natural ways to better health, I wanted to share this knowledge with others.
I show people how to lose weight and eliminate chronic health problems by learning to eat real food.
Healthy living shouldn't be expensive and time consuming. I can show you the shortcuts to great health and well being!