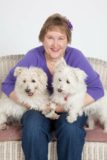 Pawtree Independent Petpro
I am a wife, a dog mom of 2, a pet lover, networker and fundraiser. Pets are my passion. I have been a professional pet sitter of my own business as well as helped fund raise for different charities. I help pets thrive by giving their pet parents a choice of what they give their pets for nutrition with food, treats, toys and supplements. In today's world there is so much worry about with recalls and foreign made products. Pawtree is made and sourced in the USA and NO recalls. I am confident in the products as I see results in my own pets. Let me help you find the purrfect fit and get a free pet treat sample! You can order direct from my site and your products will be shipped to your door. Customization on what products are in your shipment and selecting the shipping dates too. Pawtree your way! Get your Pawbox today!
I love seeing and hearing the testimonials of my clients, it is a great feeling! I would love to meet your fur baby…Give me a call.
I love referrals to new clients and I am looking for pet lovers to join my team. Great compensation and training.